Development of 1980 MW Coal –based Thermal Power Plant at Cuddalore, Tamil Nadu
Project Overview

SRM received a letter of facilitation from the Energy Department of the Government of Tamil Nadu in December 2007 and December 2008 for setting up a 2,000MW coal based power plant at Cuddalore, which was replaced with a "Single Window Clearing" system in October 2009. The company is in the process of implementing 3x660 MW (1980 MW) super critical thermal power plant based mainly on imported coal in Tamil Nadu.

Project Site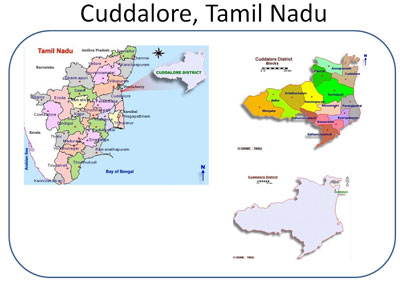 Project Highlights

• Project Location: Ideally located in Coastal Tamilnadu at Cuddalore, with favorable logistics (port, road and rail access), grid connectivity, cheap land and water availability. The required quantum of land has been identified and acquisition of the land is under progress.

The proposed project site is located in Chidambaram Taluka, Cuddalore District and is 7 KM is away from the sea and the upcoming all-weather multi cargo port. The coal will be transported by overhead conveyors and the sea water by pipe lines. It is just 2.0 Kms from the East Coast Road (ECR-National Highway 45A) and 3 Kms from Chennai-Tiruchi Main line Railway. The nearest airport from the project site is Puducherry, at a distance of 40 Kms.

Preliminary soil investigation and Sea Water Analysis completed.

• EPC Contract: SRM had invited tenders from prospective EPC contractors under the International Competitive Bidding (ICB) Route and received excellent responses from several major international players. (2 bids for EPC package, 2 bids for BTG package and 1 bid for BoP including Civil and Structural). ICB process has been successfully completed with the award of contract to China Datang Technologies & Engineering Co. Ltd. (CDTE), a specialized engineering corporation and EPC contractor in China and a subsidiary of China Datang Corporation (CDC), the largest power utility in China, for supply of 3 (three) Thermal Power Units of 660 MW each based on super-critical technology on Turnkey EPC basis at a value of US$ 1.40 Billion. The power plant with three units will be completed in 51 months with the first unit being commissioned in 39 months and will comply with the latest CEA guidelines on efficiency norms. CDTE will also be entering into an Operation and Maintenance contract and has assured supply of spares for a minimum term of three years for SRM's project, which will be extended for a further period as mutually agreed.

• Power Purchase Agreement: Originally the company had signed PPA in December 2008 with Tata Power Trading Co. Ltd. (TPTCL), to sell 65% on short and medium term and balance on long term through bidding process. The base price guaranteed by TPTCL for sale on short / medium term was Rs. 3.50 per kwh with incremental revenue sharing basis for any sale above this price. However the market dynamics have changed substantially and sale of merchant power do not remain attractive. Hence the contract has been cancelled.

Now propose to sell around 85% on long term and balance on short and medium term. In addition it is mandatory from January 2011 for all the power distribution companies to source power via Case I / Case II biddings. The participation in bidding can be directly by the generator or through any power trading companies.

• Fuel Supply:

Imported Coal
Signed agreement / MOU for supply of 5 million tons per annum each with option to increase to 6/7 million tons per annum at attractive discounts to the market price, but the contracts are yet to be made effective.

Domestic Coal
Have applied to the Ministry of Coal, Govt. of India, for domestic coal linkage of 3.2 million tons per annum for blending. We understand that our our application is under process.

• Port Services: MOU signed with Karaikal Port (already and operational Port) at a distance of 150 kms from the site. IT is understood that Karaikal port is also in the process of taking over the Old Cuddalore Port at Cuddalore OT, which has got railway sidings. Karaikal Port can move the cargo by barges to Cuddalore port from Karaikal or by High Seas transfer and deliver at the site.

• Environmental Clearance: Ministry of Environment and Forests (MoEF) has accorded Environmental Clearance for 3x660 MW i.e. 1980 MW Super Critical imported coal based Thermal power project in May 2011.

• Other Approvals / MoUs:
Received Chimney Height Clearance from Airport Authority of India
Received "In-Principle Approval" for in-take of Sea Water & out-fall from Tamilnadu Maritime Board.
Clearance for crossing of Railway lines received for laying overhead Coal Conveyor and underground Sea water Pipeline
Received confirmation for Principal Chief Conservator of Forests, Tamilnadu Forest department that there are no Forests, Elephant and Tiger Reserves, Scheduled Flora and Fauna etc. in the project site.
Clearance for crossing of National Highways received for laying overhead Coal Conveyor and underground Sea water Pipeline
Applied for allotment of Govt. land in the proposed plant area, which is under process.
CRZ clearance for laying coal convyeors, sea water pipelines into sea and for pump house has been received vide letter dated 26th February 2013 from MOEF (IA division).
Tied up with Ultratech Cements for lifting entire fly ash from the plant

• Power Evacuation: The Pooling station expected to be within 15 Kms from the plant. The current prevailing CERC norms entitle finalization of arrangement for evacuation of power within three months from the date of application. SRM will submit the application after freezing the "Zero Date" i.e. the date of commencement of construction.

• Owner's Engineers: Engaged Tata Consulting Engineers, Bangalore as Owner's Engineers for the project. Mandate for Owners engineering consultant include Pre-bid engineering, bid evaluation, engineering review during project implementation, site supervision in erection, testing, commissioning, PG Testing and plant taking over from the EPC Contractor.

• Detailed Project Report (DPR) already prepared.

• Financing: The Company is listed on the BSE and is currently exploring possibilities of raising resources through Rights issue / private placement to strategic investors. In order to proceed at a faster pace with resource mobilization and implementation it is proposed to hive off the Cuddalore Power Project to a separate SPV, SRM Energy Tamilnadu Pvt. Ltd. subject to receipt of all the necessary approvals, as per Scheme of Arrangement drawn under Section 391 to Section 394 of the Companies Act, 1956. The shareholders of the Company have approved the hiving off in the Court Convened meeting held on September 28, 2012, post which application has been filed with Honourable High Court of Bombay. Upon receiving approvals it is proposed to induct a strategic investor into the private limited company to meet bulk of the equity requirements.

In addition to the above, the Company has on December 15, 2010, signed a Tripartite Memorandum of Understanding (MoU) with CDTE and Industrial and Commercial Bank of China (ICBC) consortium, for financing the export buyer's credit to the Project backed by insurance from China Export & Credit Insurance Corporation (SinoSure) to the extent of 85% of the EPC cost.

As a part of their due diligence exercise, SinoSure has got the DPR prepared by our Owners Engineers vetted by North Eastern Power Design Institute, an independent external agency in China. We expect that the remaining process will be completed shortly. For raising the domestic debt, SRM will be mandating one of the leading institutions in India.